boxPop® brewpub containers: a party in a box.
May 12th, 2021 / BoxPop® Team / 3M READ TIME
Three brewers share how a custom shipping container helped grow their business.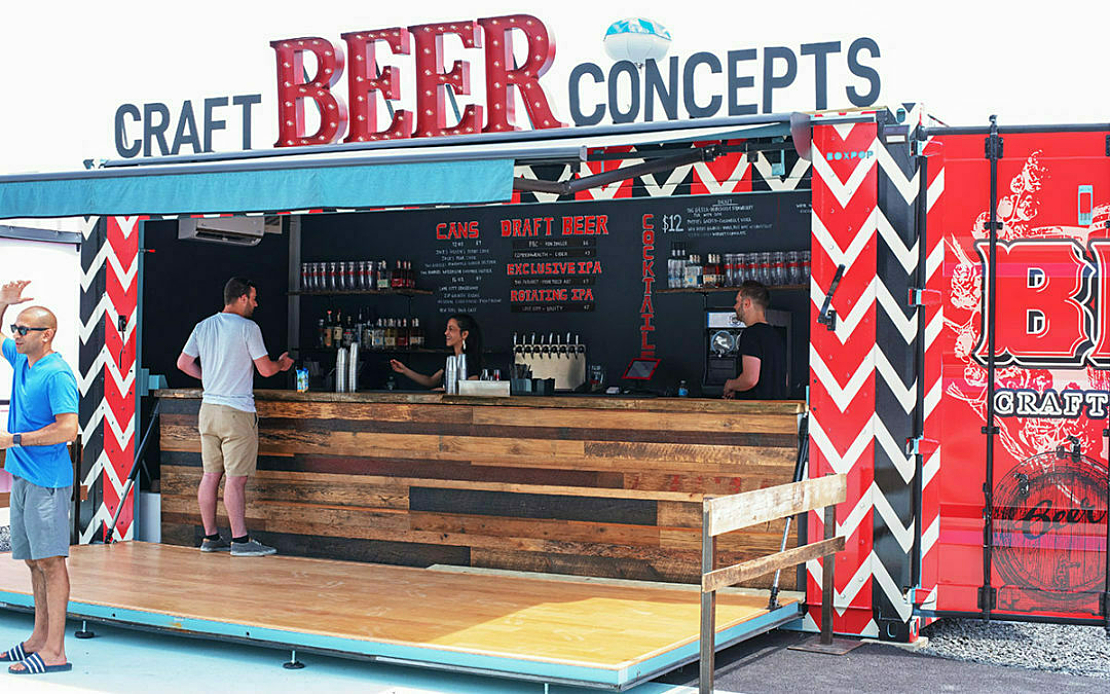 Taproom. Beer garden. Lounge. When it's time to expand your brewery, you've got lots of options, and that can be overwhelming. Here's some honest insight from three brewers who've used BoxPop® Brewpub Containers to generate more revenue and buzz for their business:

petoskey brewing company
Petoskey, Michigan
Model: BoxPop® 20 Brewpub
Price: $45,000
Key Features: Raised awning, digital screen fixtures, logo decals
Why it works: "We wanted to have a bar outside that was easy to use and set up and a little more permanent," says operations manager Tyler Gostinger. "We wanted something that was different. It just looks much cleaner than the other outdoor bar options out there."
Favorite features: "The level of customization that came with it. You have this enclosed space that's out of the elements, and you can really do whatever you want to it. Whether it's putting in an ice machine or tap handles, you decide how it gets done."
What it's worth: "Since we're in an area where everyone wants to be outside in the summer, having a second open-air bar has really benefitted our business. And, the ease of use contributes to the revenue we make. Instead of having customers walk all the way inside to get a drink, they just order it there. It's incredible."

four fathers brewing company
Valparaiso, Indiana
Model: BoxPop® 20 Brewpub
Price: $53,000
Key Features: BoxPop® trailer, electrical stereo system, flip up awning
Why it works: "BoxPop® lets us take the taproom aspect of our business and put it right smack in the middle of our community," say co-owners Jason and Beth Lacny. "It has a whole different look and feel than what you would typically see from just a pop-up at an event. It's an actual structure that's visually attractive and draws people in."
Favorite features: "People think it's remarkable that we can drop this 1,000-pound shipping container off the back of an F-250. The container is structured so that we can move it with minimal equipment. Also, the level of branding and decorating that went into it is awesome. The BoxPop® team took our idea and executed it without a problem."
What it's worth: "We had a partnership with downtown Valparaiso, so transporting our taproom to their weekly events added quite a bit of revenue to the business. If you can take the container and move it around, or permanently park it as an extension of your taproom, there's a lot of money to be made there."

apponaug brewing company
Warwick, Rhode Island
Model: BoxPop® 20 Brewpub with Rooftop
Price: $86,000
Key Features: Rooftop deck, flip-up doors, insulated walls
Why it works: "The concept is awesome, the structure is beyond cool, and it fits perfectly with our industrial location," says owner Tamara McKenney. "We needed to expand our outdoor space and it was definitely the easiest option. The process was quick and easy. We didn't have to build a thing. As soon as it was delivered, we could start making money."
Favorite features: "When it's closed up tight it looks just like a normal shipping container, but in seconds you can open the doors, pop up the sides, and it's a ready-made party just waiting to happen. Our customers are just in awe of it."
What it's worth: "With the additional revenue, the new beer garden will pay for itself the first year. We often run a one- to two-hour wait on weekends when we're busy. Now, I can provide better hospitality to my customers by allowing them to buy beer and have a fun outside place to wait for their table."
To learn more, visit BoxPop® Brewpub Containers or email info@boxpop.com.