food truck vs. shipping container: why shipping container food stands are best
May 18th, 2020 / BoxPop® Team / 3M READ TIME
Straight talk on why custom shipping containers outshine food trucks.
In the beginning, there were food carts. And the street vendors were happy selling hotdogs and soft pretzels to sidewalk passersby. Ice cream trucks, with their strange minstrel music, gave enterprising people ideas. Instead of deep-freeze coolers, mobile chefs installed hot plates, small stoves, and soon the food truck rose to become king.
The reign of the food truck may have lasted forever had the shipping container not come along to better serve the needs of entrepreneurs and the evolving tastes of their food-loving customers.
Today, the food truck rules only in megacities with limited open space, among operators who think they're cheaper and those who actually like packing up and driving their entire business home with them at the end of every working day. But if you have a semi-permanent location—and if you're looking to maximize your mobile food business for the same startup cost (or maybe less)—read on to discover why shipping containers are now top of mind for modern restaurant owners.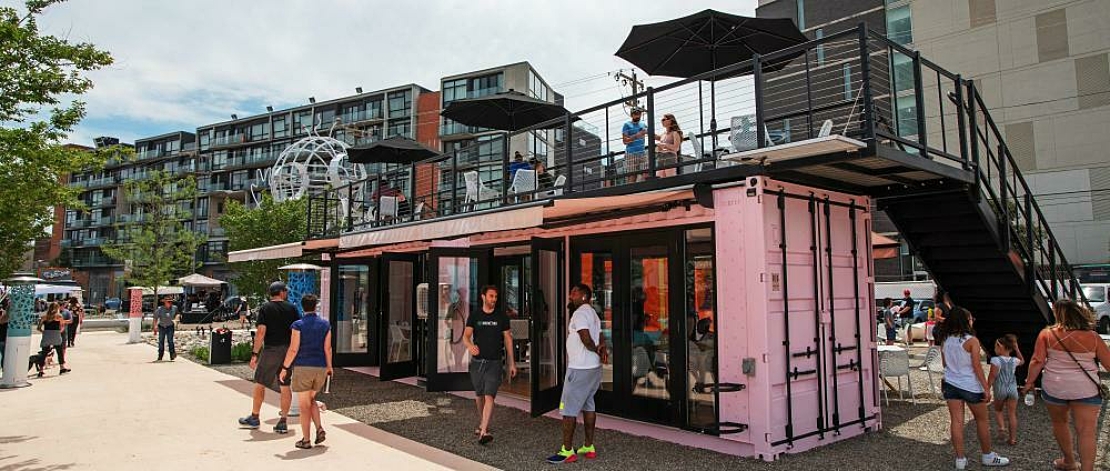 wheels are overrated
Unlimited mobility is the food truck's appeal. You can drive it all over the country. But in reality, who actually does that? The food biz is about location. When you find a busy spot and park it, what are wheels really worth if you're just driving back and forth to the same place?
Container restaurants can be picked up and moved by flatbed or towed on a trailer with a large SUV or pickup. They have a ton more room. (We'll get to that later.) Set one up in a prime, semi-permanent location—a neighborhood park, on a busy beach, or stadium parking lot—and you bring a brick-and-mortar vibe to your business without the Main Street rent and overhead.
A shipping container kitchen is a restaurant first. Food trucks are vehicles, which means regular maintenance and always those surprise repair visits to the shop that put your working hours at risk. With a custom shipping container, you get the freedom to move locations if you want. Moreover, when your restaurant isn't doubling as your daily driver, you also enjoy the freedom to close up shop (containers are lockdown secure) and simply go home after the evening rush.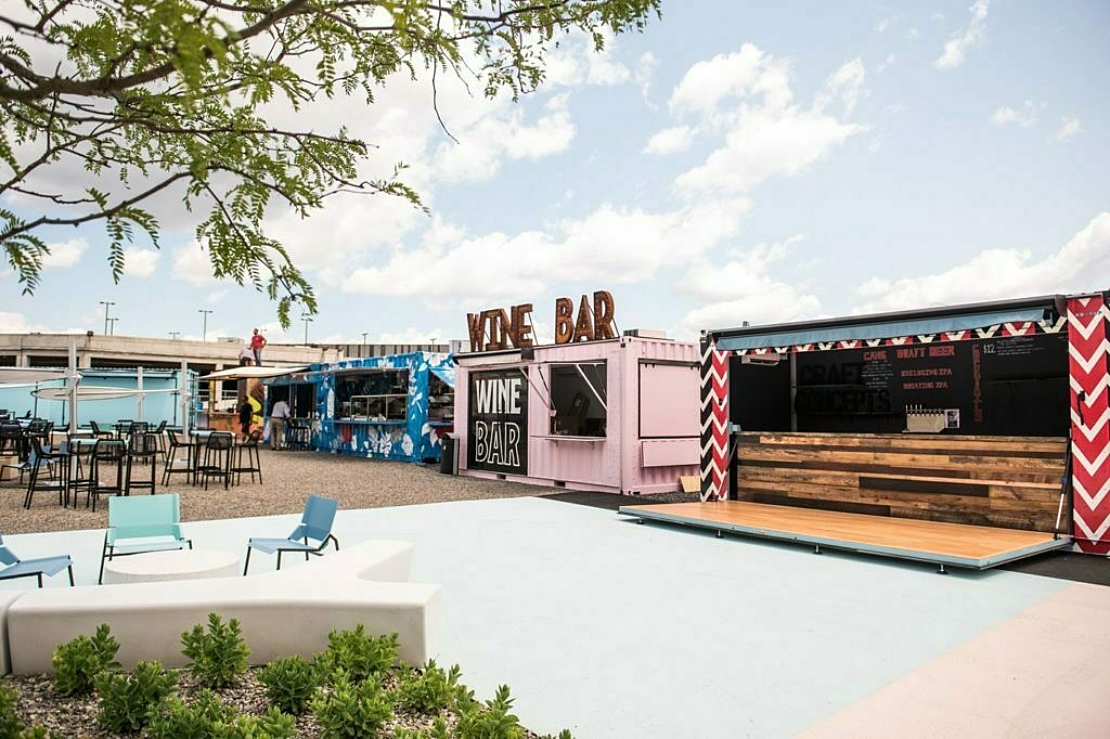 more for your money
Since the food truck craze began in Los Angeles in 2008, the price barrier for entry hasn't changed much. Everyone from Forbes to OpenTable have run the numbers—$50,000 to $75,000 on the gently-used end all the way up to $275,000 dollars for a totally pimped out, customized behemoth on wheels.
For $50,000, that used food truck with a modest kitchen setup gets you around 80 square feet of floor space. Compare that to a custom shipping container option like the BoxPop® 20—a totally brand new 20' X 8' custom restaurant with 160 square feet of usable kitchen space. Starting price right in the sweet spot at $65,000, depending on features.
With any commercial kitchen, it's tough to ever be too big. But too small? Absolutely. And with food trucks it's a headache and pain in the back, literally, if you're the one hunched over all day, pushing food and taking orders through one of those tiny service windows. Cramped conditions inside come standard with a food truck, whereas a mid-sized cargo container delivers twice the elbow room, space for equipment, and storage all at virtually the same cost.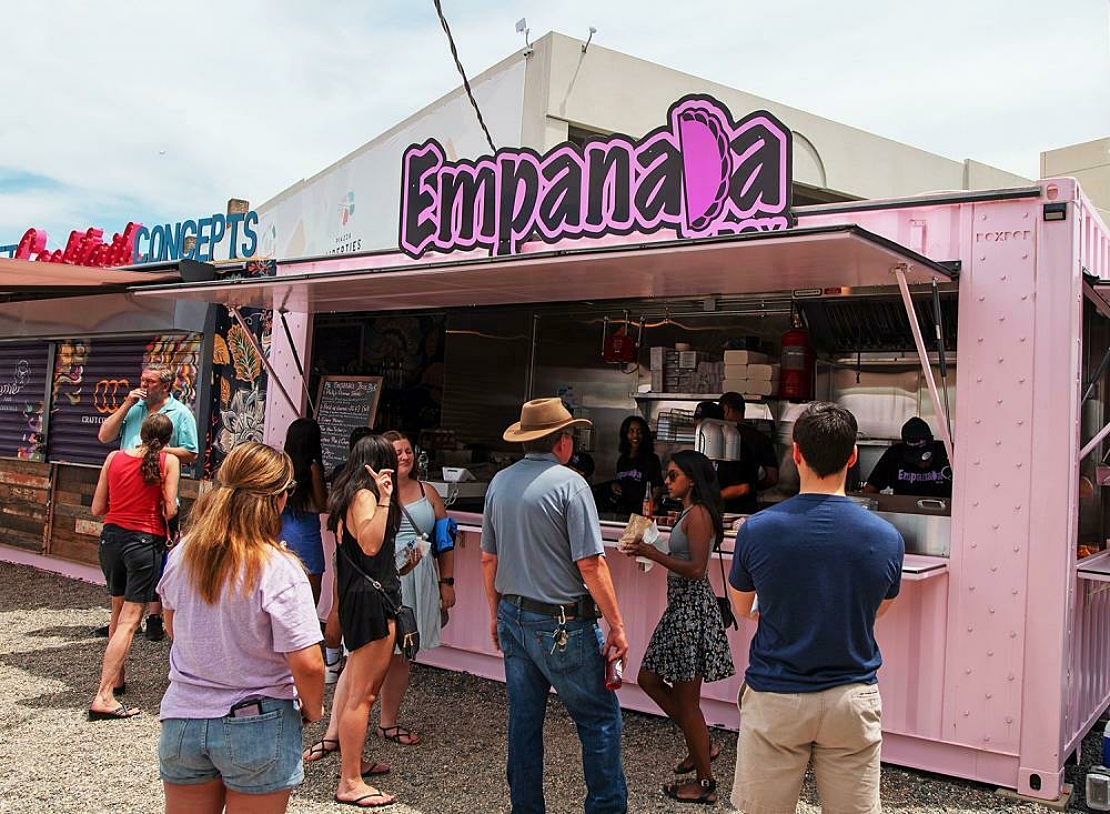 better quality build
How a shipping container delivers a more comfortable, open-air work environment and outdoor dining experience cannot be understated. Even a small, 10' X 8' mobile container kitchen (base price $20,000) gives you 160 square feet of service space when adding roof-seating options for customers. Can't do that with a food truck.
Full-on commercial kitchens are possible with 20- and 40-foot modified containers. You can install anything from a 35-pound fryer to a four-burner range/oven complete with a hood and exhaust system. Indoor grills. Pizza ovens. Kegerator tap systems. Hand and prep sinks. Larger containers can accommodate refrigeration and, unlike food trucks, don't require a commissary for prep space or storage.
Add electrical, plumbing, stereo systems, and automatic awnings. Hydraulic fold-up doors and windows. Secure flip-down doors. Shipping containers have so many practical and visual advantages over food trucks. In a smart location, their industrial cool look sets them apart and helps draw a crowd to your business. Factor in their mobility, and it's hard to deny that custom shipping containers are the smartest way to get into the restaurant business cheaply and with confidence and flexibility that's hard to outgrow.