how big is that boxpop®?
January 29th, 2020 / BoxPop® Team / 3M READ TIME
Choosing the right size shipping container for your mobile business or activation.  
BoxPop® containers come in a range of sizes and custom designs. Picking the right one starts with knowing what you want your dream business or event activation to do.
Too big is a waste. Too small is a headache.
Ultimately, it's about giving your customers/fans an inviting space to experience the unique vibe of your service while at the same time providing ample room for employees to do their work. After you factor in your budget, it's time to take a hard look at what an activation-ready rental or made-to-order custom 10-foot, 20-foot, or 40-foot container can deliver for you.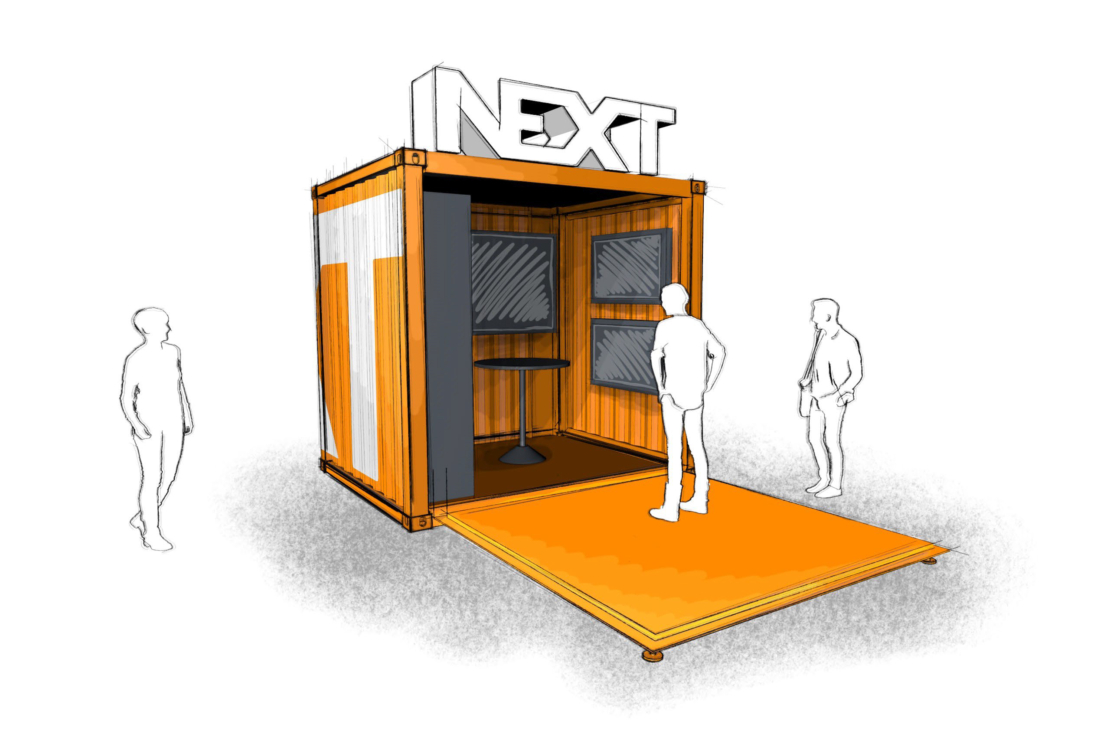 boxpop® 10
Compact mobility that packs cutting-edge architectural design. The BoxPop® 10 delivers the flexibility to take your products or brand experience anywhere your fans or target customers gather. Light enough to be transported on a flatbed trailer with a full-size pickup truck or large SUV, our smallest modular structure is popular in environments and venues where space is limited.
Take your business/brand to the people in stadium parking lots, mixed-use community parks, or even indoors at your next trade show. This eye-catching alternative to traditional tents and booths shines as a pop-up retail space, small bar, or nucleus for an event activation.
TECHNICAL SPECS
First Level Floor Space: 10' x 8' (80 sq. ft.)
Second Level Floor Space: 10' x 8' (80 sq. ft.)
Total Square Footage: 160 sq. ft. (with optional upper deck)
Weight: 5,000 lbs.
Popular Add-On Options: platforms, large LED screen panels, truss, side panels for display and branding options, speakers, stereo systems, bar counter tops, hydraulic fold-up doors and windows, flip-down doors
Transport: Standard full-size pickup or large SUV
Base Price: $20,000
boxpop® 20
Electrify your next promotion with the most versatile entertainment unit in the BoxPop® fleet. Equipped with pushbutton hydraulic windows and fold-down platforms, the workhorse BoxPop® 20 transforms into a fully-functional restaurant, bar, or spacious VIP lounge with optional upper deck, refrigeration, and enough storage space to keep your business service customers long after the competition has run dry.
Easily joined together and stacked to make a larger footprint with multiple units. All BoxPop® modular structures start as "one-trip containers," the highest demand category on the recycle market. Every custom creation and container in the BoxPop® rental fleet is carefully selected and starts its second-life in mint condition—clean, secure, structurally sound, and free from potentially toxic spills. That's a big deal for food and beverage providers.
For agencies and business looking for the ultimate in branding mobility and industrial good looks, the BoxPop® 20 is built and designed to integrate every facet of its parent company, Britten's, 360° branding capabilities. Integrated truss, eye-catching banner displays, flags—you name it.
TECHNICAL SPECS
First Level Floor Space: 20' x 8', (160 sq. ft.)
Second Level Floor Space: 24' x 8', (192 sq. ft)
Additional Doors-Down Space: 192 sq. ft.
Total Square Footage: 544 sq. ft.
Weight: 9,500 lbs.
Popular Add-On Options: electrical, plumbing, mechanical, propane, stoves, refrigerators, stereo systems, automatic awnings, misting machines, lounge furniture, high-top tables
Transport: Large capacity pickup (3500 or higher) or semi-truck
Base Price: $40,000 (exhibitor's box), $45,000 (bar), $65,000 (restaurant)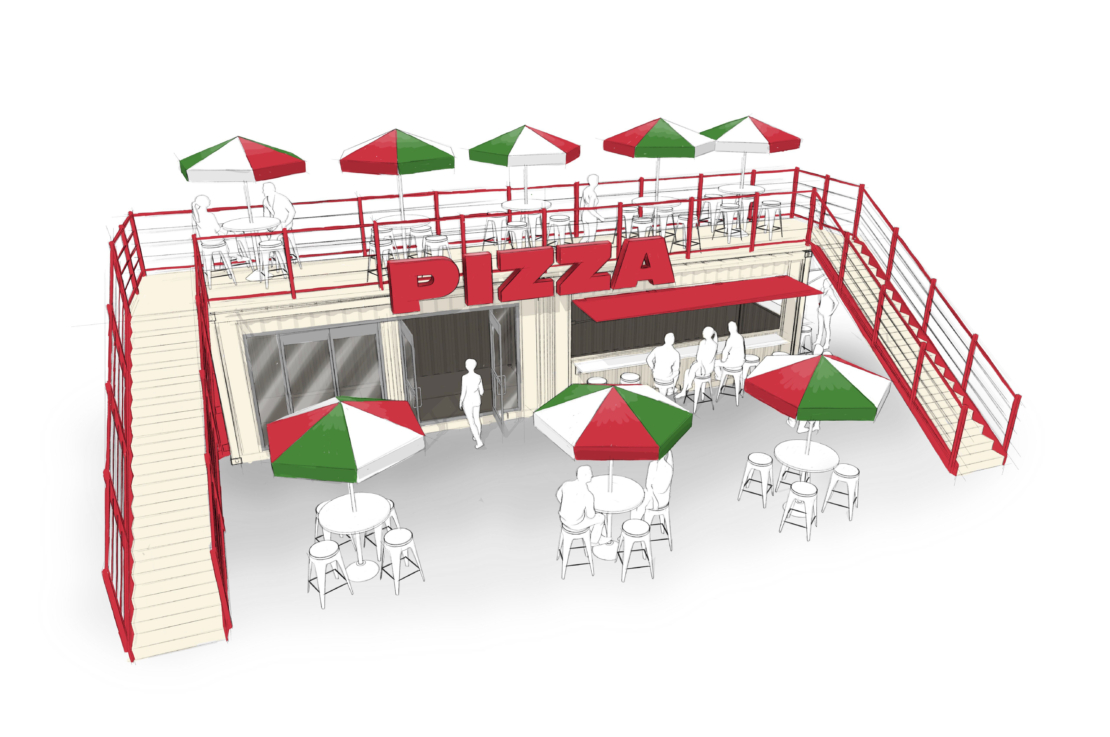 boxpop® 40
Endless branding possibilities and a massive amount of mobile floorspace combine to make a huge impression on your customers. The BoxPop® 40 is the ultimate alternative to a brick-and-mortar establishment. These semi-permanent structures can be equipped with staircases, multiple interior walls, upper patio decks, and fold-down seating areas for full-service eateries, bars, offices, and VIP lounges.
Join or stack for multistory structures. Run plumbing, propane, and wire for electricity to power stoves, full-size walk-in coolers, sound for DJs, big-screen televisions, and music. Plenty of headroom and floorspace for customers and up to eight servers/workers in the kitchen and behind the bar. Designed for large-scale event activations and property development customers, the BoxPop® 40 is the mobile solution when your top drivers are maximizing space and retaining mobility.
TECHNICAL SPECS
First Level Floor Space: 40' x 8' (320 sq. ft.)
Second Level Floor Space: 48' x 8' (320 sq. ft.)
Additional Doors-Down Space: 512 sq. ft.
Total optional footprint: 1,152 sq. ft.
Weight: 15,000 lb.
Popular Add-On Options: electrical, plumbing, mechanical, propane, stoves, refrigerators, stereo systems, automatic awnings, full walk-in cooler, full glass walls, multiple rooms, up to 16 beer taps
Base Price: $65,000 (bar), $85,000 (restaurant), $60,000 (exhibitor's box)
Transport: Gooseneck trailer, semi-truck