What's the process for ordering a custom shipping container? How long does one take to build and deliver? From outdoor bars and restaurants to multi-level tradeshow booths and fan activations—BoxPop® customers regularly challenge our team with all sorts of creative uses for custom shipping containers. They also ask a lot of great questions.

From idea to installation, BoxPop® wants to help make building out a custom shipping container as smooth and hassle-free as possible. Check out this informative Q&A we put together, then give us a call to learn how we can help turn you dream business or brand activation a reality.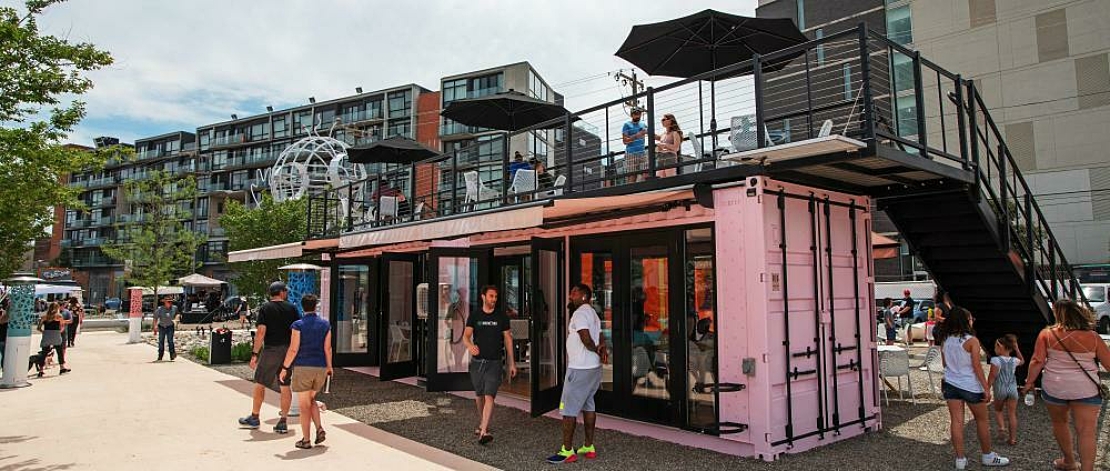 Why should I choose a custom shipping container over a brick-and-mortar building or some other modular structure?
Total flexibility in design, for starters. Custom shipping containers deliver the ability to customize every square inch of your business space to your exact needs. With BoxPop®, you can be your own contractor from start to finish—working one-on-one with a single-source contact to build the space of your dreams.
With a custom shipping container-based business, you're also never locked into a brick-and-mortar lease. You also have the ability to pick up and move your container-based business, event activation container, or tradeshow/expo container easily from location to location.
Unlike modular structures, when you invest in a custom shipping container you're starting with a solid steel structure. For security and long-term structural integrity, this steel framework delivers a huge advantage over a modular building.

What is the process for buying a custom shipping container?
Starting the process begins with a quote request. Share some details about your project, interior and exterior features you require, and BoxPop®'s in-house teams of designers will send you a free rendering showing your idea along with an estimated cost to make it happen.
If you like what you see, a BoxPop® team member and you work together to gather more information, answer all your questions, and further hone all the customizations you want to create your ideal space. Give us the go-ahead and construction of your outdoor bar, restaurant, pop-up shop, or event activation begins. Expect delivery and installation anywhere in North America to happen eight to 10 weeks later.
From concept to completion, BoxPop® delivers a full, turnkey design-build experience. When you partner with BoxPop®, you enjoy a single point of contact throughout the entire conceptual design, fabrication, and installation process.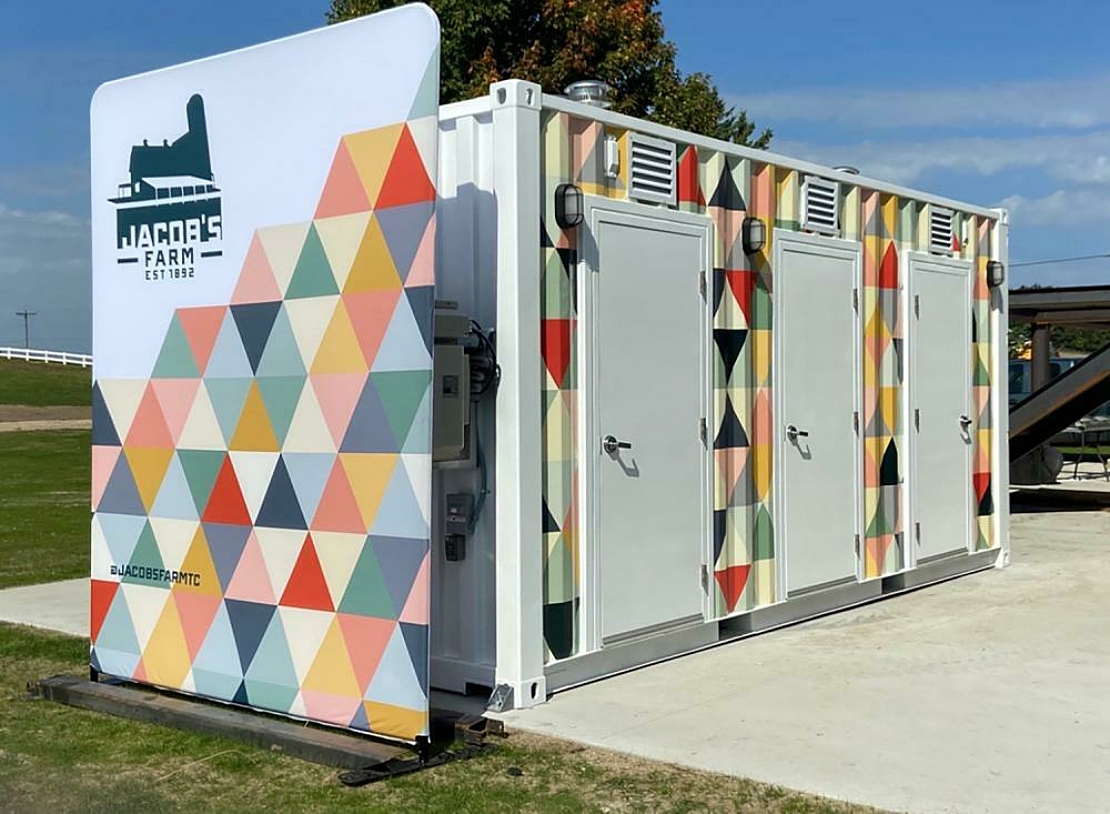 What sizes do you offer?
BoxPop® outdoor bars, restaurants, restrooms, pop-up shops, tradeshow booths, event and fan activations come in a range of sizes and designs, all made to order. Our high cube single trip ISO shipping containers measure 10' x 8', 20' x 8', and 40' x 8'. To further maximize floor space, many customers add optional staircases leading to rooftop lounge/seating areas. You can also join or stack units together for doublewide and/or multistory structures. Click here to see our spec sheet outlining various custom shipping container options and prices.

How long does it take to build one?
Customizing shipping containers for brand/event activations, mobile kitchens, bars, retail shops, and property development is not a sideline business. It's what we do. Over the years, our team has landed on an efficient, proven process that delivers the fastest turnaround in the industry for our customers. BoxPop® is one of the only shipping container fabricators that can totally customize and deliver turnkey, design-build units in just eight to 10 weeks after you give us the go. Even faster, expedited options are available for a premium.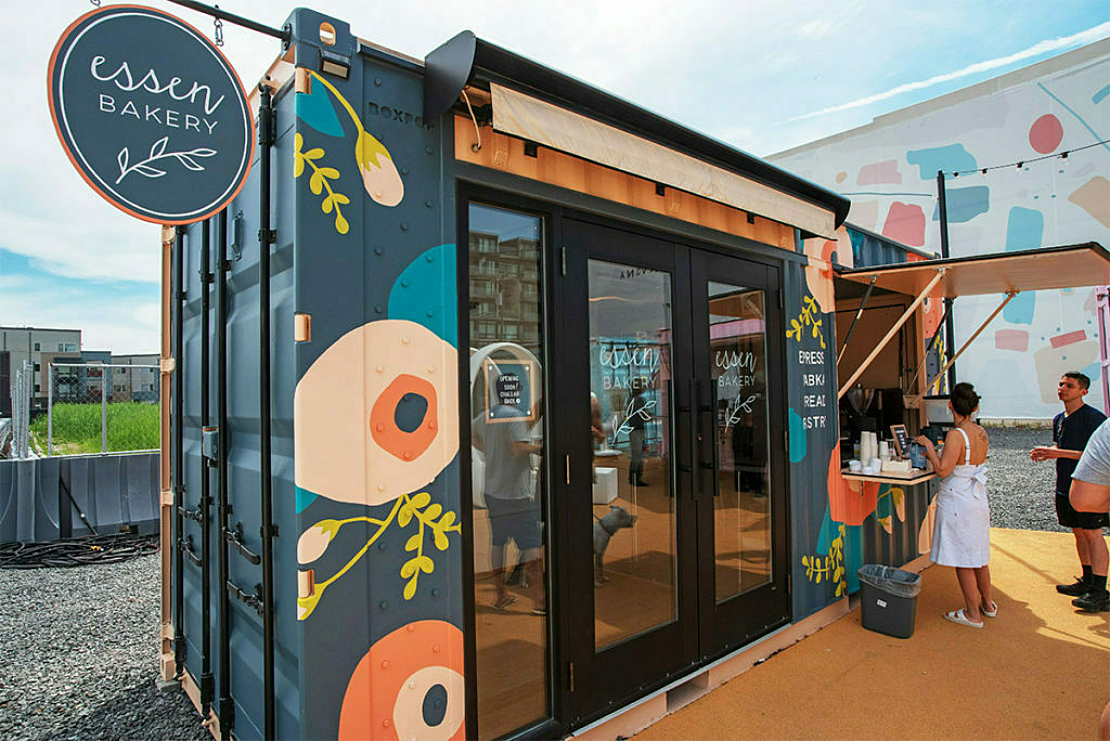 What is the average cost of a build?
With so many interior and exterior options, no two custom containers are ever priced exactly the same. But to help guide you, we've put together a basic spec sheet outlining various custom features and baseline prices for our modular units. Click here to see it.

Do you offer financing?
We do offer a lease-to-own option, but we do not currently offer direct, in-house financing. On a case-by-case basis, we work with customers and financial partners in the industry who can help tailor a financial option to meet your specific needs.

Can you deliver?
Absolutely. We have a professional install network that can service the entire continental U.S.
Delivery and setup are considered an added service. So, if you need help, be sure to talk to your BoxPop® team member early in the design-build process so it can be factored into your price quote.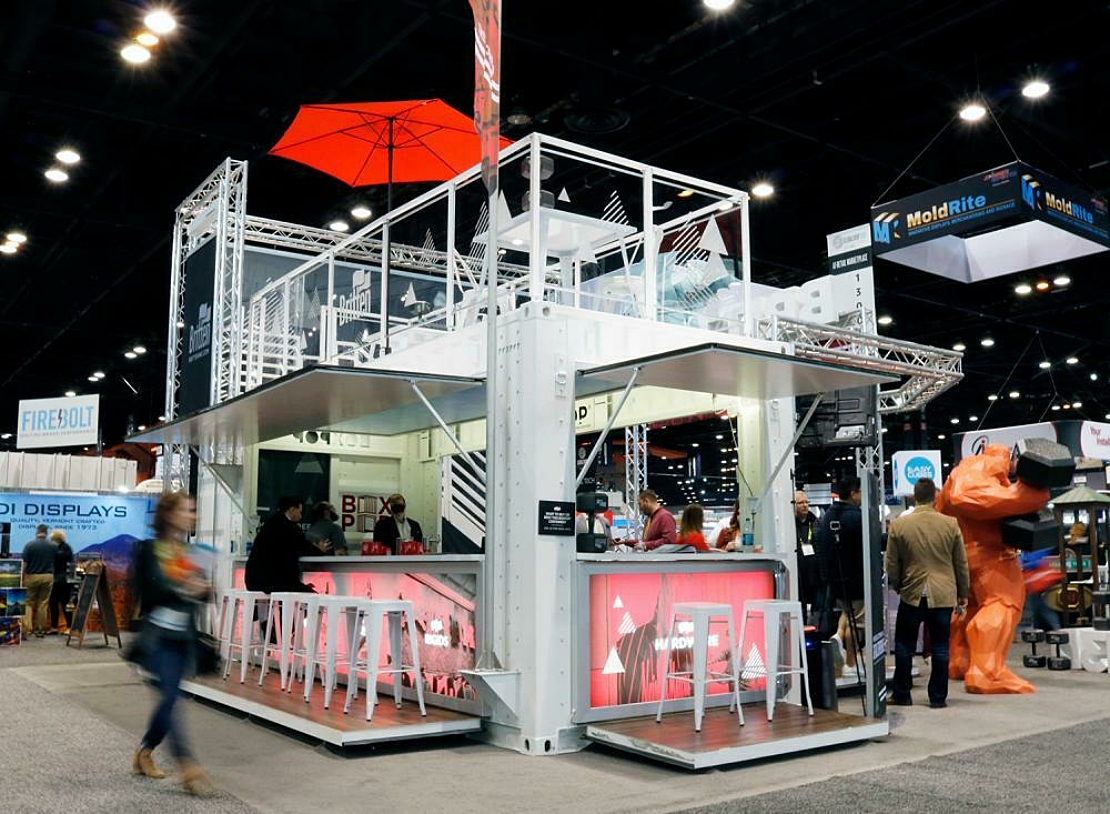 What is the setup process?
Incredibly easy. BoxPop® custom shipping containers are designed to be as turnkey as possible. In fact, we consider "ease-of-setup" to be one of our unique value propositions.
Other companies don't do the level of customization that BoxPop® does. Once you coordinate all underground utility connections and foundation requirements (if needed), you can open shop immediately when your outdoor bar, restaurant, pop-up shop, or experiential activation arrives onsite. Just connect the unit through a normal electrical disconnect on the outside of the container. Your install team can also quickly and easily make water or a sanitation connection for custom shipping container bars, restaurants, and restrooms with indoor plumbing.

What are the foundation requirements?
This really depends on your chosen location and whether you're setting up a mobile or semi-permanent location.
No extra foundation considerations are usually required if planning to set up a mobile location in, for example, a parking lot. If your location is permanent or semi-permanent, a solid, concrete slab or concrete piers spaced every 8' will suffice. Your custom shipping container can then be bolted to the foundation.
When consulting with your BoxPop® team member, describe your setup location, and they'll be happy to guide you.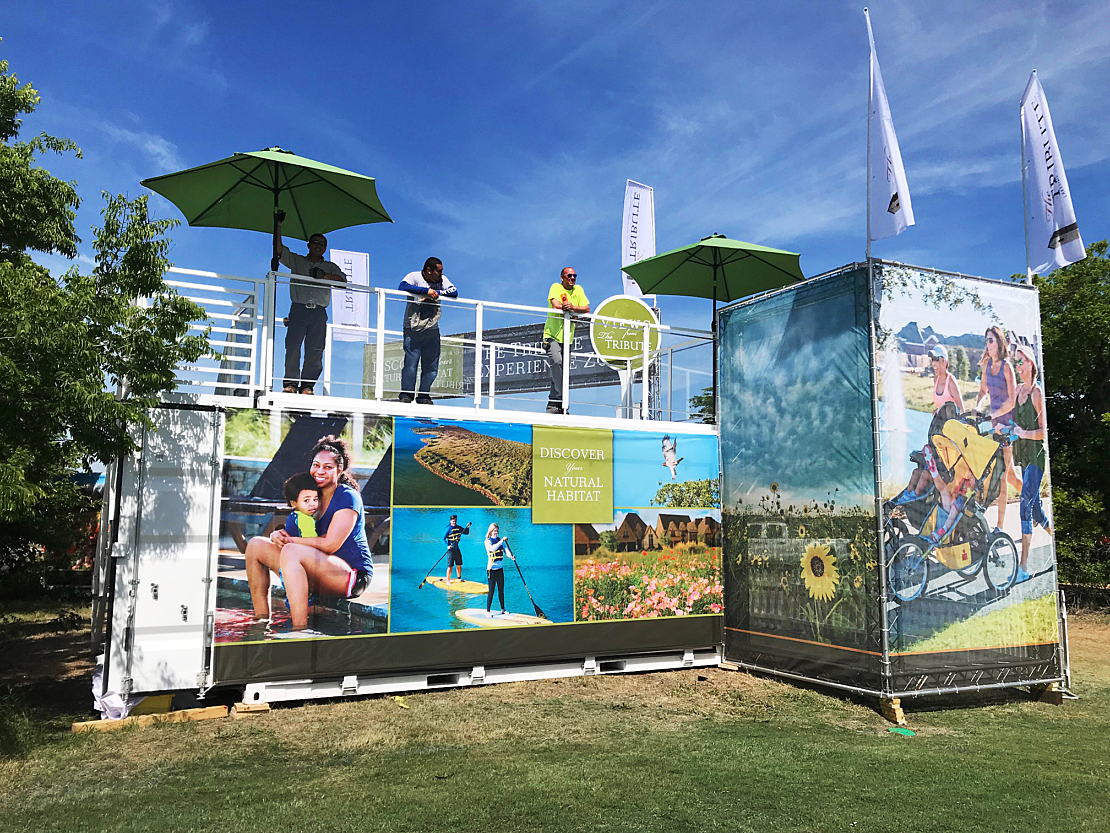 The Tribute Experience Zone


Are custom shipping containers mobile?
Yes. The ability to pick up and move your unit from location to location is one of the many beautiful things about shipping container bars, restaurants, pop-up retail shops, trade show booths, and event activations.

How you do transport a BoxPop® custom shipping container?
Depending on the unit size you've selected, moving your custom container from one location to the another is simply a matter of loading it onto the back of a flatbed truck, tilt-back, or heavy-duty trailer that can then be towed by a large capacity pickup, SUV, or semi.
If you plan to move your custom shipping container often, inquire about fitting your unit with an optional hydraulic leg system ($15,000) to assist loading and offloading. The optional hydraulic leg system allows you to lift the container up so that a transport truck can drive in from under it.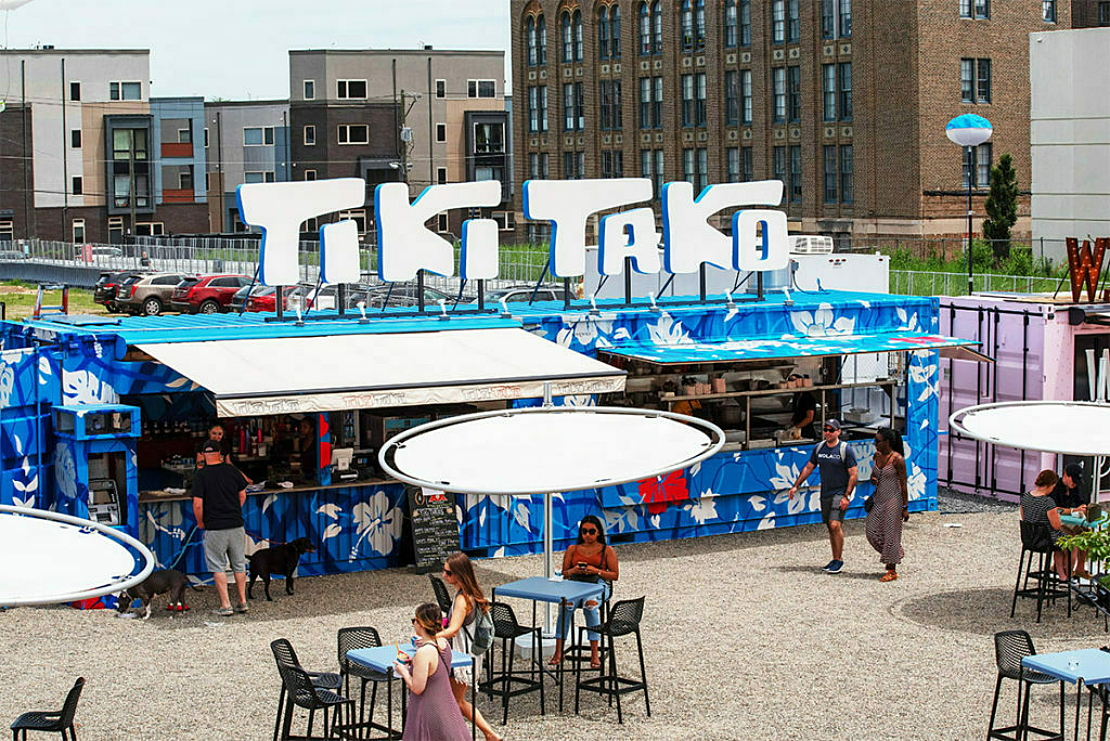 Do you offer a warranty on interior equipment and customizations?
Yes. BoxPop® delivers a full, one-year warranty on all electrical, plumbing, and structural components built into your custom shipping container. Added equipment such as coolers, stoves, etc. are covered under manufacturer warranty. But if something goes wrong with anything the BoxPop® team installed, we urge you to contact us first to see if we can help.
BoxPop® aims to keep every customer for life. We don't limit our services or bail on you should something goes wrong.

What about local codes and zoning?
BoxPop® customizes every shipping container to meet International Building Council (IBC) 2021 building code requirements. We urge customers do their homework and know the laws and building permit process governing outdoor bars, restaurants, or pop-up retail shops in their state and municipality before ordering a custom shipping container. Be sure you've been given the go-head to setup a container-based business in your area and, if necessary, have your permit in hand before taking delivery.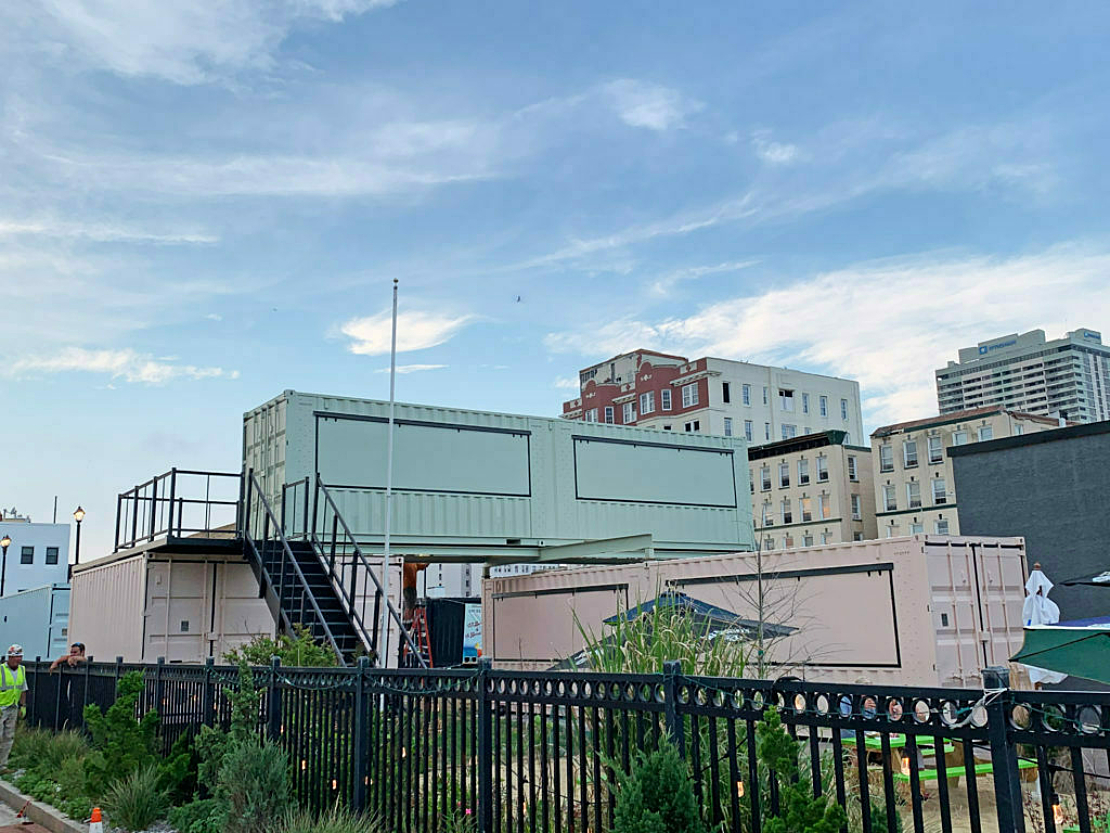 How do I know I'm getting a quality shipping container to start with?
A very important question—especially for our food and beverage customers. As of 2021, the IBC requires the use of AC462 code compliant containers that are certified to use as building materials. This AC462 designation makes permitting easier for our customers in municipalities that require it.
Going even further, BoxPop® uses only single-trip (new) ISO containers, the best grade shipping container available. While these do cost a bit more, a shipping container that makes only one trip across the ocean begins its second life with very little rust (which can weaken structural integrity).
BoxPop® shipping containers are also certified to never have shipped containing any toxic goods. This ensures our customers are receiving a quality container with the least amount of damage and NO INTERIOR CONTAMINATION.

How about installing climate control in my custom shipping container?
Depending on your end use and location, the BoxPop® team can deliver a full, custom insulation system as well as full heating or cooling solutions to help maintain the climate for your workers inside. We utilize a 12.1 (R-Value) insulation system that is built to match the corrugation of the container. It's about 4-inches thick compared to normal stud/spray insulation (6-inches), which means you do not lose as much floor space.

Do you offer solar?
Absolutely. The BoxPop® team offers solar packages for our custom shipping containers that are individually tailored to the end-user's energy use and goals.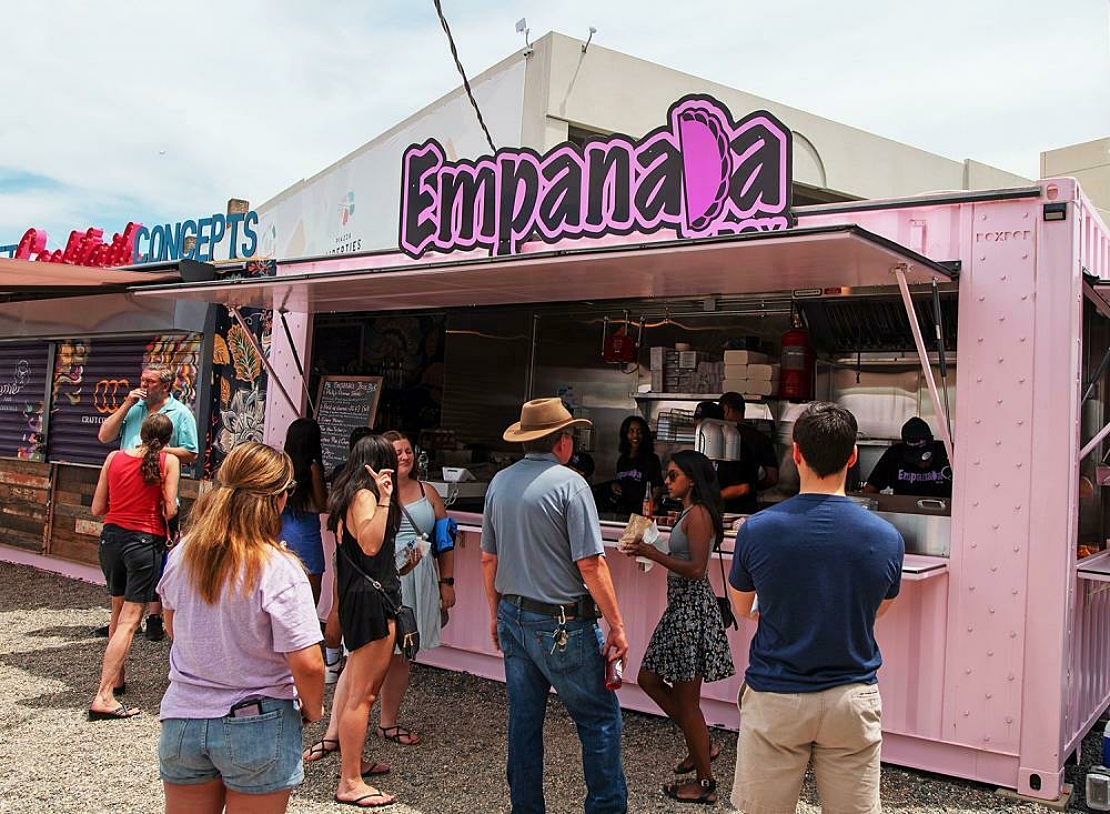 How large of a restaurant, bar, or event activation can you build?
Custom shipping containers can be sized or configured any way you desire. From single outdoor food and beverage service containers, multi-level trade show booths and brand activations to multi-use parks and entertainment district such Piazza Pod Park in Philadelphia and Houston's LagoonFest Texas.

Are shipping containers rodent proof?
Yes. When the doors are securely shut and locked, everything inside the container is sealed in tight. One of the great benefits of custom shipping containers is the ability to close and completely and securely lock up your business at the end of a busy workday.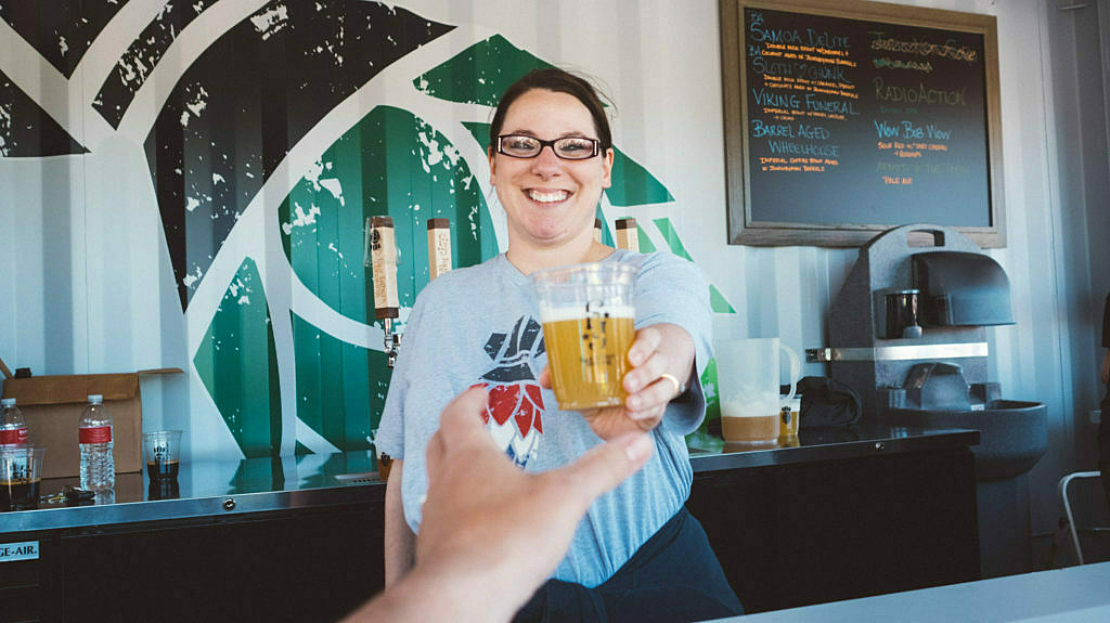 Do you offer standard kitchen and bar equipment packages?
Yes. We do offer standard kitchen and bar equipment packages. After years of modifying custom shipping containers for food and beverage service, we know what works and can fit you with proven, standard equipment to get your business up and serving customers fast.
Most customers who come to BoxPop®, however, have done their homework and know exactly what they want inside their outdoor restaurant or bar. We excel at tailoring custom components specifically to your goals and budget.
You bring the idea. We do the build, deliver, and can even install. Click here to share some details about your idea, and we'll get back to you with a no cost conceptual sketch and price estimate. Or to call 855.763.8205 to talk to a BoxPop® team member.