piazza pod park one year later
January 14th, 2020 / BoxPop® Team / 4M READ TIME
Philly's Post Brothers talk about turning a profit and generating buzz with shipping containers.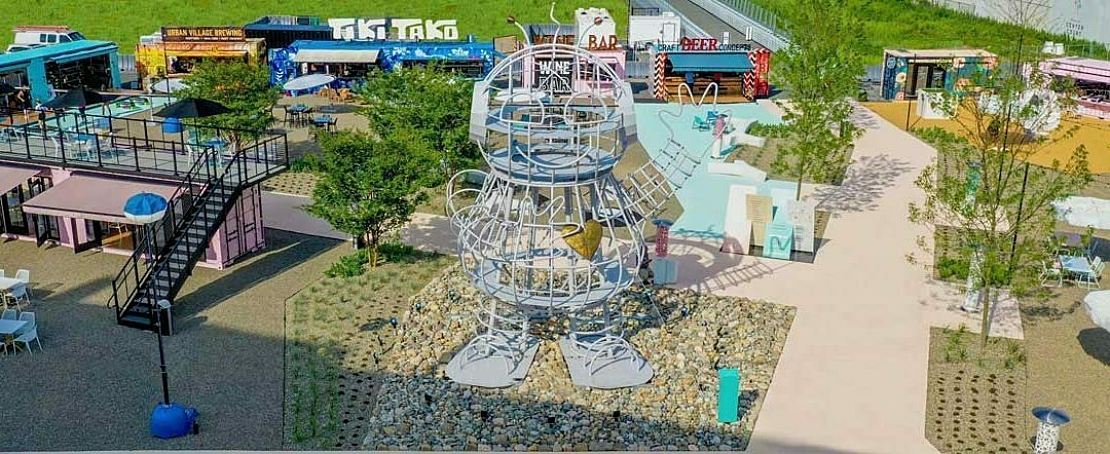 In 2019, Post Brothers of Philadelphia decided to transform a 35,000-square-foot Northern Liberties parking lot into a beautiful, mixed-use community destination with inventive spaces for open-air dining, shopping, entertainment, art installations, fitness activities, and family play areas.

The BoxPop® team at Britten, Inc. delivered 16 unique shipping containers. Local vendors moved in. And now, one year out, we decided to check in with Acquisitions Associate, Hayley Schneider, to see how it was going...
Has the Piazza Pod Park project met the original goals and expectations of your organization and the local community?
Since its official June opening, Piazza Pod Park has greatly surpassed our expectations. Our primary goal of creating the park was to reinvigorate the Northern Liberties neighborhood where we're investing over $700M across three, large-scale projects.
Piazza Pod Park is home to shipping containers operating as a fitness studio, restaurants and bars, coffee shops, a toy store, and communal lounging space as well as a nursing station. The park's programming this year included a wide array of events ranging from Quizzo to festivals, live music, and clay pottery making workshops.
Piazza Pod Park also served as the venue for numerous charitable, pet-friendly, and children's events such as cornhole tournaments, a "Movember" festival to benefit cancer research, "Yappy" hour, and "Pop-Up Play," which generated positive feedback and helped contribute to Post's goal of making Piazza Pod Park a community-oriented gathering place.
While the pod operators and these events drew large crowds, the desirability of the park as a recreational destination encouraged guests to visit and lounge on the communal pod's roof deck or bring their laptops to do work while their kids utilized the playhouse on site. Ultimately, the Piazza Pod Park project was about creating a place—which is exactly what it achieved, with loud applause from the local community.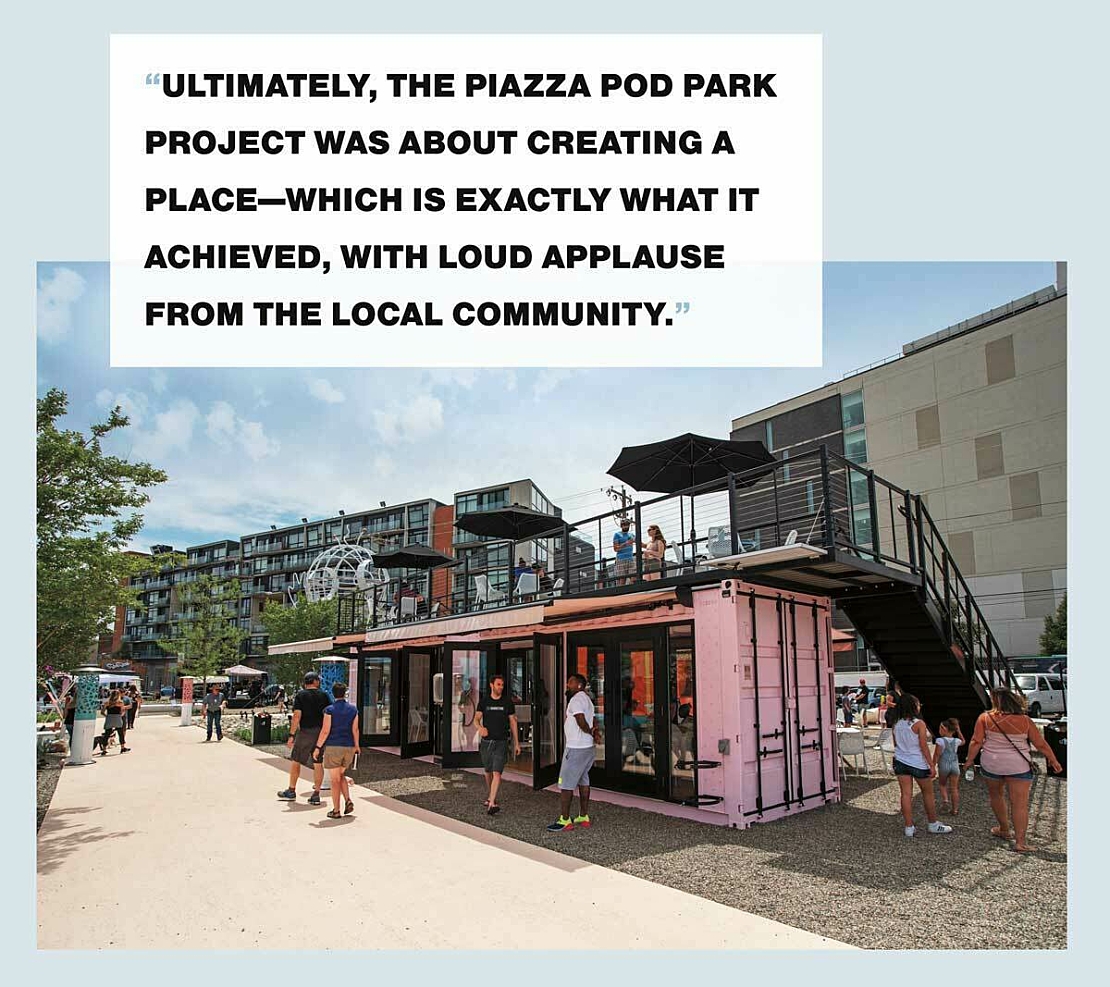 Has Piazza Park met the ROI your organization originally hoped for? How does this mixed-use retail development compare to managing a brick-and-mortar retail location?
In addition to encouraging pedestrian use of the formerly blocked-off pathway through the park to the major SEPTA [commuter rail] station two blocks away, Piazza Pod Park generated an unbelievable amount of buzz and drove pedestrian traffic to the neighborhood. The perception of the Northern Liberties neighborhood as a thriving, mixed-use destination with convenient access to transit has been restored.
While the shipping containers' size and structures created some logistical obstacles, we worked collaboratively with the tenants to come up with innovative solutions for storage and utilities that allowed the operators to function at full capacity.
As for profits, leasing at our adjacent mixed-use Piazza property has further exceeded expectations. We expect our forthcoming Piazza Terminal project to benefit from this improved neighborhood perception, as well.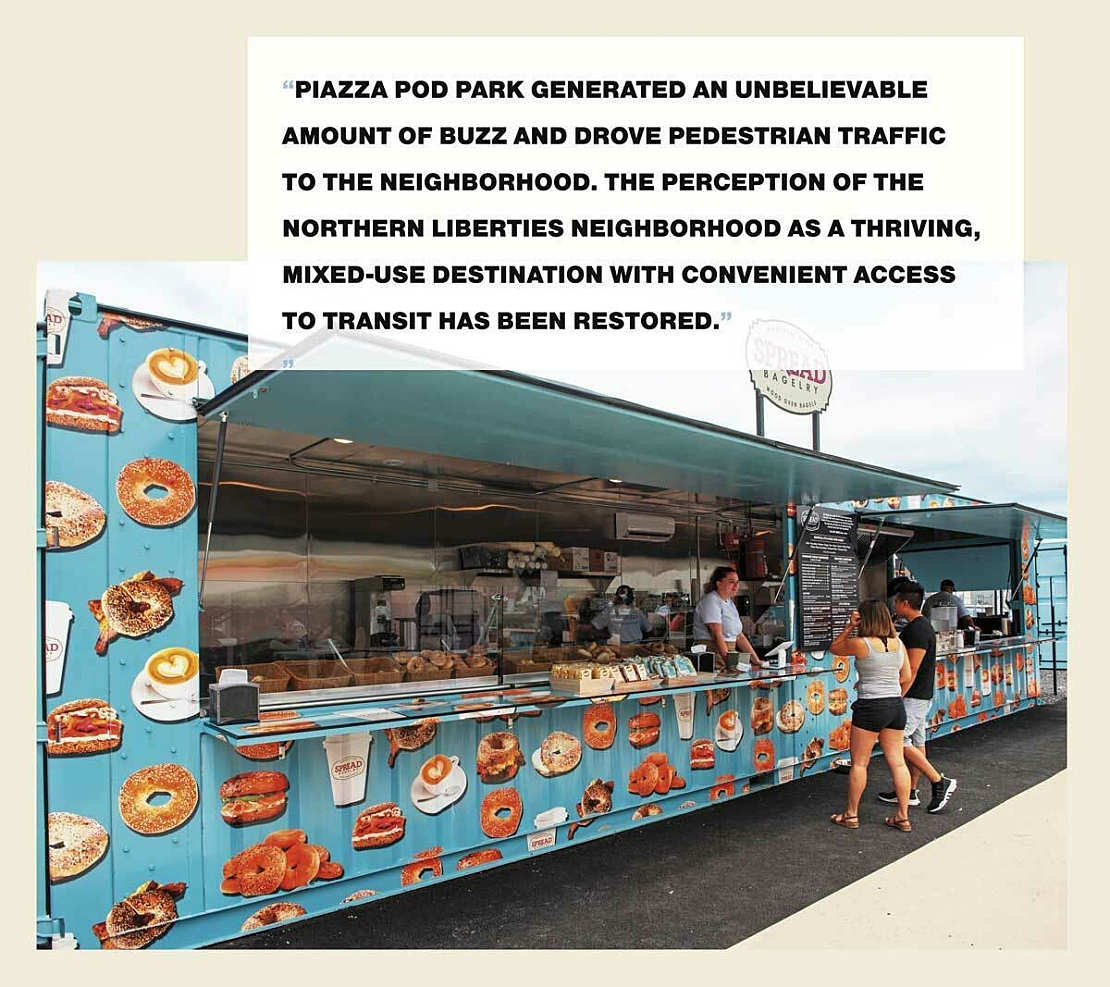 What are some of the memorable comments you've heard or received from the public in regard to the space?
Bebot—the 33-foot tall robot sculpture hailing from the Burning Man festival—greets visitors at the Piazza Pod Park entrance and has garnered national recognition while becoming an icon of Northern Liberties. People would experience a visceral reaction to Bebot's welcoming appearance and were further enticed to enter the park.
The public and media also expressed a deep fondness for the overall aesthetically-pleasing and functional design of the park, which included child-friendly sculptural and colorful furniture and playsets, an eye-catching communal dining pod with a roof deck, painted asphalt and thoughtful landscaping, custom Piazza Pod Park-branded signage and Jenga, and the 185 light-up, 4' x 4' x 4' cubes (also a former Burning Man art installation) that lined the pathway through the back of the park. These design features, coupled with ample seating, contributed to Piazza Pod Park's status as a desirable gathering place for locals and visitors alike.
What has the feedback from the Piazza Park vendors been like? Any memorable comments or anecdotes you can share?
One of the challenges with leasing typical brick-and-mortar space is that potential tenants often struggle to visualize their concept in an under-construction building. With the BoxPop® containers, they arrived in generally turnkey condition, with kitchen equipment, lighting, awnings, insulation, HVAC, and wooden floors. That made it easy for vendors to visualize the space, which resulted in the pods leasing at an extremely fast pace.
While the move-in ready condition of the shipping containers made leasing quick, the exceptionally thoughtful and functional design of Piazza Pod Park as a whole also facilitated the vision of prospective tenants and added to such leasing velocity.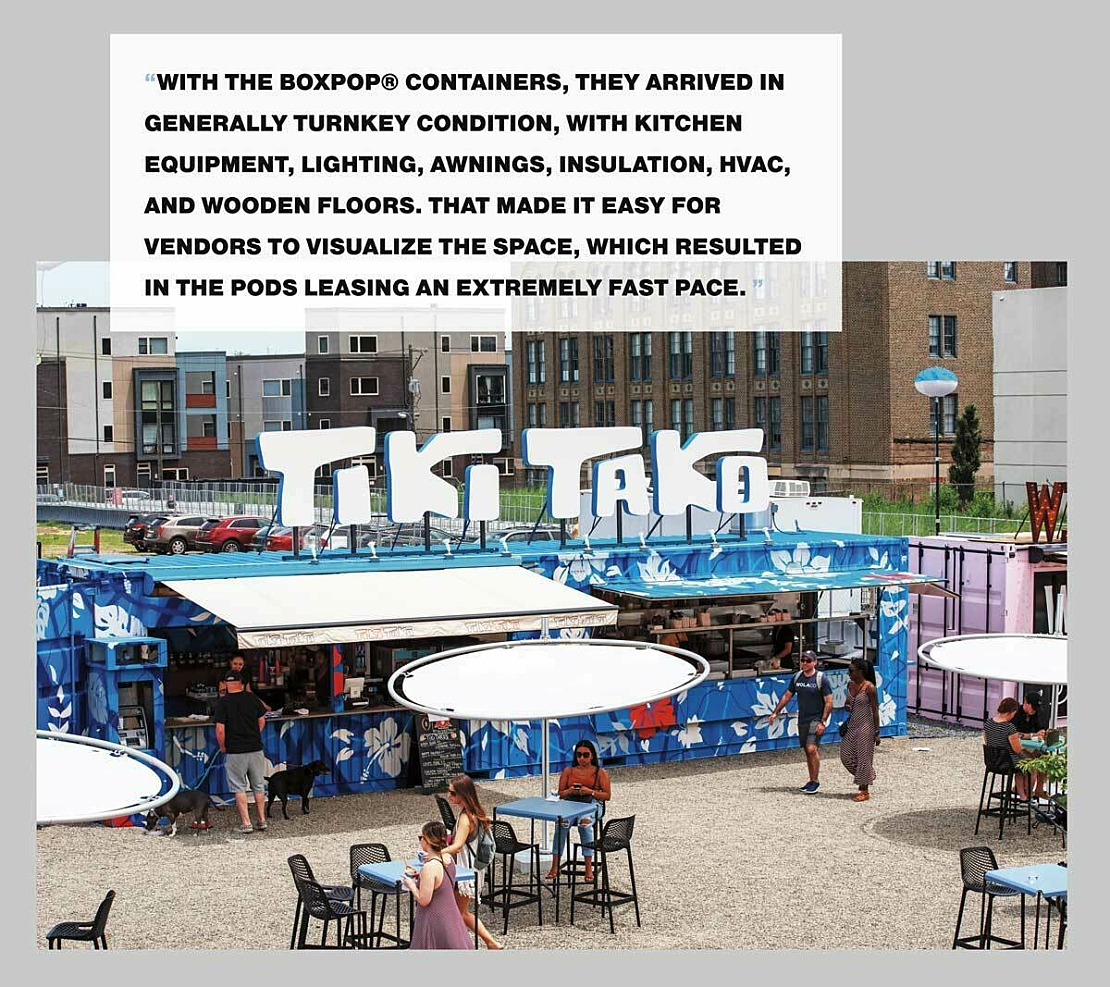 As a developer, do you see potential for similar pod parks being set up in other parts of America?
We believe that shipping container parks—if designed tastefully and with a carefully-curated mix of retailers and programming targeted towards the neighborhood demographic—have the potential to accelerate a given neighborhood's path towards becoming a destination in itself.
Piazza Pod Park and many other shipping container parks serve as preliminary drivers of neighborhood activity and—as potential renters or commercial tenants see more visitors who view the place as desirable—naturally helps spur development surrounding those sites. They also serve as launchpads for businesses who are new to a given market and want to test the success of their concept in such a location at a less risky and less capital-intensive scale compared to that of a traditional brick-and-mortar location, which was the case with almost all of Piazza Pod Park's vendors.